Information in more languages at www.nooa.no
You can study all courses in our course catalogue any time - anywhere.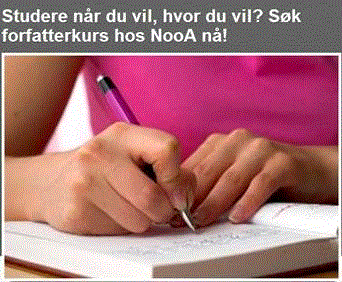 Our writing courses are suitable for anyone that wants to improve their ability to write - such as: journalists, authors, business managers, pensionists, high school students, or, in other words, anyone with a desire to write better English as their first or second language.
NooA's mission is to provide quality online education that creates sustainable value, public awareness and footprints to follow.
NooA's aim is to become an international Learning Mall for Online Courses. This means that it works to develop a multilingual learning community which:
is an attractive partner for individuals and businesses that develop, translate and sell online courses
provides students with much flexibility and much learning value for their money
is accredited in several countries
recruits students from many countries
provides courses at least in English, Portuguese, Spanish, German, French, Danish, Swedish and Norwegian
is among the largest Nordic providers of online courses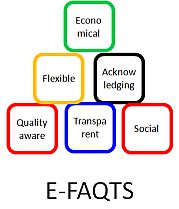 NooA's values are illustrated by these E-FAQTS blocks:
Economical
Flexible
Acknowledging
Quality aware
Transparent
Social
The NooA partners comprise e-learning experts in these language areas: English, Portuguese, Spanish, German, French, Danish, Swedish and Norwegian.
The NooA international advisory board consists of experts representing education, environmental issues, art, public awareness, social awareness, technology and social media.
The NooA international quality board is established to monitor and focus on quality in all aspects of NooA's online education activities.
The NooA content partners are companies, organizations and individuals that offer courses in collaboration with NooA. If you would like to become a content partner, please contact Morten Flate Paulsen at mfp@nooa.no
The NooA Mall is an open area where you can meet staff, teachers, students and prospective students. You will be able to access some tidbits of the NooA services and experience some examples of how it is to be a NooA student. You may enter the Mall and read the NooA Newsletter if you register an account here.